How to create an online quiz
Creating your own online quiz is really easy with the Online Quiz Creator. Here we'll explain step by step how you can make your own quiz for your business, students or friends.
Step 1: Name your Quiz
Go to the Quizzes tab on your dashboard, click + New quiz, enter a title for your new Quiz, then click + New quiz again: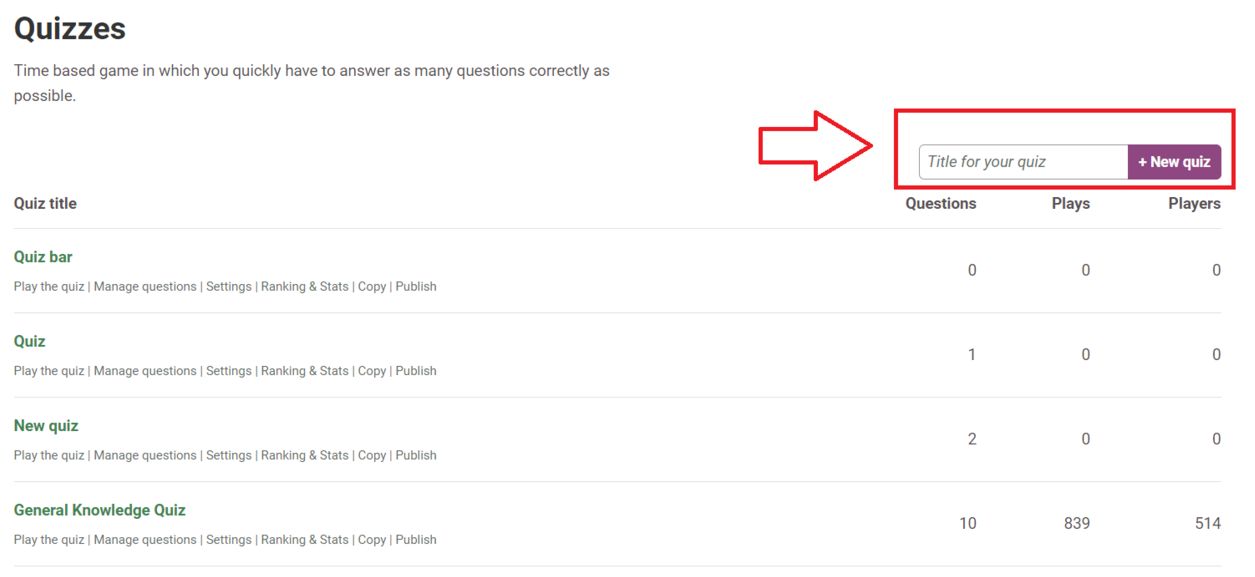 Step 2: Enter your questions and answers
Add your first question by hitting the
+ New question
button:
I'll use a
Multiple choice
question here, but there are other options to choose from too, please check
this article
for more info. Enter your question, and at least one correct answer: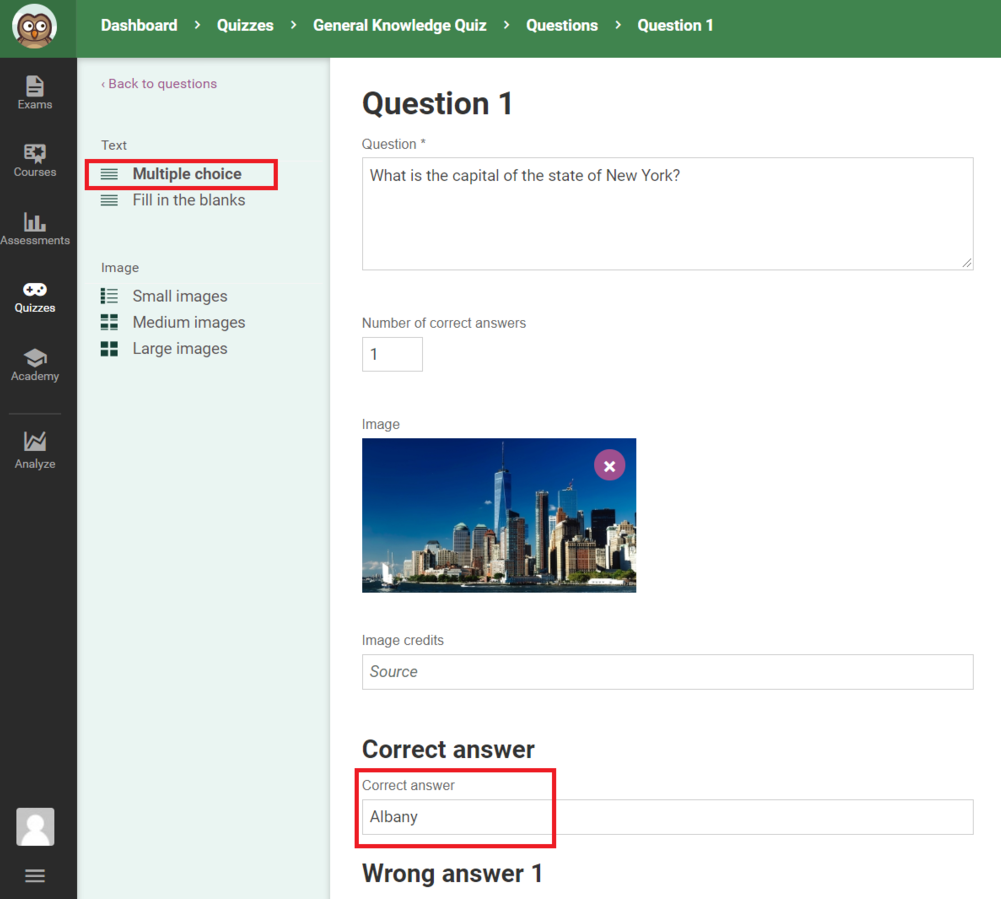 Now you can click
Save
, or
+ Add question
to save your question and move on to the second question, and so on.
When you're done creating the questions for your Quiz, you can preview the Quiz by clicking
Play the quiz.
Step 3: Set up the login page
Now you can add a login page to your Quiz, or not. If you want to gather leads for your business, generate a leaderboard, control the number of Quiz attempts, and see the points each person got, you need to ask for some information from your players. You can do that under the
Participant data
tab of your Quiz:
You can make it mandatory, not required, or optional for players to log in before (or after) taking your Quiz.
For detailed instructions on how to set up the login page, please read
here
and
here
.
Step 4: Customize your online Quiz
Even after saving your Quiz, you can still edit it!
If you want to add more questions, just go to the
Questions tab
to the left of the screen. You can also
import questions to your Quiz
here, using an Excel file:
If you want to change the title of your Quiz, or add an introduction text to it, you can do that under the
Settings
tab:
If you go to
Settings > Advanced
you can determine
an attempt limit
for your Quiz, add a picture to the start page and result page banner, among other things:
If you go to
Settings > Algorithms
, you can select the algorithm for your Quiz. If you're not sure which one is the best option for you, please check
this article
.
On the
Settings
tab you can also
copy
or delete your Quiz.
Moving on to the
Styling
tab, where you can change the look of your Quiz and make it match your brand or personal style, and even add your own logo:
If you are not happy with the standard layout options, you can
customize the CSS
and change the text formatting, font, font size, add a background image and so on (this feature is available with a
Corporate Owl
plan or higher.




Once you're done with adding questions and customizing your Quiz, you can publish or share it with your participants from the
Publish
tab.
You will find a URL you can copy and paste to an email, Facebook, WhatsApp or any other channel of your choice.
Or you can
embed the Quiz into your own website
using the embed code:
Step 6: Play, and watch your statistics!
Finally, we can play! Enjoy your Quiz and let your friends, students or customers play! From the
Results
tab you can view and analyze the Quiz statistics, and even download them into an Excel file!
Dig deeper
Why should I use a learning management system? Why not old fashioned paper training material and exams? And red pens to correct the answers? Well, if...