Is online learning as good as face-to-face learning?
The common belief is that courses and exams can only take place when learners are guided by their instructor in a physical location like a classroom. Yet, nothing could be further from the truth. Let's compare face-to-face learning to online learning.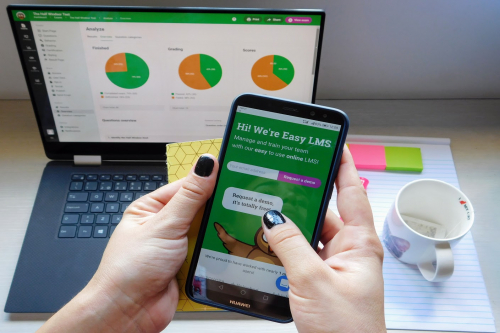 What are the main benefits of face-to-face learning?
Face-to-face learning has been the standard for centuries.
With face-to-face learning, it's possible to have a live interaction between a learner and an instructor. Since that interaction occurs in person, it means that a learner needs to be physically present in a classroom at a specific time and date.
Face-to-face learning helps your learners organized their studies because they need to be somewhere at a specific time and date. Also, it's possible for them to interact with the instructor and the other students. If learners don't have enough self-discipline or didn't do their homework, they can simply sit there and listen to their instructor.
Since its been the standard for so long, face-to face-learning is readily recognized as the "real" way of learning. Since individuals must be physically present to take a traditional course, people assume that they are actually taking the time to learn something and are serious about it. Yet, taking a class in person does not always guarantee that someone will be more focused or successful.
Is online learning really effective?
Good question. Although we are in a modern era where we don't have to be physically present to learn something, people still have a hard time taking online learning seriously. Let's take a look at some facts that indicate something else:
Most people today prefer to consume content using the Internet. The very fact that you are reading this article online is proof of that! 😉 We now use the Internet to read the news, watch our favorite TV shows, chat with friends, book appointments, shop, and so much more. Considering all of the convenience the Internet has added to our daily lives, why should education remain strictly traditional instead of utilizing its advantages?

Online learning requires more self-discipline, and (surprise!) it will benefit your learners. Since there's no one to monitor your learners, they are required to be self-disciplined. Therefore, your learners will actually have to take the time to study, pay attention to what they are studying, and apply what they learned during an exam.

Results have shown that learning outcomes for online learners are comparable to traditional students at both the high school and university level. In fact, many top universities now offer online courses.

Learners do not need to spend time or resources on commuting. With online learning, there's no need to spend money on transportation. Your learners can study using any device with an Internet connection.
With online learning, you can still grant a diploma or certificate. Yes, that's right. You can even use the same certificates that are given to people who take face-to-face classes.
Which one to choose: face-to-face learning or online learning?
We are not arguing that traditional learning should be discontinued; however, online learning is not only a great alternative, but it can also supplement face-face learning. For instance, some teachers and trainers use a blended approach where both methods are combined to maximize results.
If you are a teacher or a trainer, consider how the benefits of online can make your life and your learner's lives much easier without sacrificing any quality.
Useful resources
More articles that might interest you