What is Mobile Learning (m-learning)? Definition explained
Nowadays, our smartphone is glued to our hands. We use it for everything. Communicating with friends and family, online shopping, ordering food, playing games, and so on. Should we also use smartphones for learning? Mobile learning is a new way to access learning content via mobile devices. Let's dive into the secrets and hidden treasures of mobile learning and discuss the advantages & disadvantages.
Discover our special consultants' page
Table of contents
What is mobile learning?
Definition: mobile learning, also known as M-learning, is a new way to access learning content using mobile devices. It's possible to learn whenever and wherever you want, as long as you have a modern mobile device connected to the Internet.
M-learning in corporate education
It's no secret that more and more people today access the Internet from a smartphone. Desktop and laptop computers are still popular, and instead of choosing just one device, it has become the norm to own multiple devices and use them for different activities [1].
For example, if we look into the analytics of people who access Easy LMS, we find that most people who access public content on our website use mobile devices to do so.
Mobile learning offers an opportunity to reach employees that are always on the go or work remotely
Clients that create and administer content continue to use desktops most of the time, but we noticed that there's an almost equal split when it comes to participants taking courses and exams: they use both mobile and desktop devices.
In corporate education, mobile learning offers an opportunity to reach employees that are always on the go, work remotely, or that want to take their training outside of work hours (and therefore not using their desktops).
Examples of mobile learning in corporate education
Sharing learning content for mobile consumption
This is the most common way of using mobile learning. After creating your learning material (mostly using a desktop), you can share it with your participants so they can learn using their mobile devices, in their own time. It's easy to share the material through email or by simply sharing the link by text message, for example. This method of mobile learning is more about individual consumption.
Interaction during lessons
Mobile devices can be used for a blended learning approach
It's also possible to use mobile devices for a blended learning approach. Instructors can ask questions during an in-person training and the audience can answer them via a survey that they take on their smartphones. For that, the trainer can share a link to the survey, invite participants by email, or even create a QR code that can be easily captured with a smartphone camera. It's possible to get immediate feedback, which is especially effective when training large groups.
Supercharge your training offerings
Are you a consultant who wants to give multiple clients bite-sized training via their smartphone? Easy LMS is the #1 time-saving LMS for busy consultants. Minimize your administrative tasks, and maximize your time and training results! Simply focus on what's important.
The main advantages of mobile learning
The Millennial generation has grown up with digital devices. So Mobile learning is tailored to the way millennials work and think. But there are so many advantages with M-learning that all generations can benefit from it. Let's take a look at some of the advantages of M-learning.
Learn wherever and whenever you want
M-learning enables learners to take their learning materials with them. Your employees or customers don't have to be at a specific place or to learn at the same time. Their learning content is available for them in their pockets. Waiting time such as waiting for a plane or flight time can be used for more productive tasks like learning something new. Come on! It's even possible to take an online course or complete a survey while lying in bed!
More motivation
Employees can feel more motivated to learn something new or to take online training if they know they can take their learning materials everywhere with them. That is especially the case if they don't have time to learn during their regular work hours.
Mobile Learning facilitates and speeds up feedback
Real-time feedback
Mobile Learning facilitates (and speeds up) any feedback you may want to receive from your team. Since it's much easier for your employees to access the content you are sharing, you can expect higher completion rates for your training courses and faster results and statistics from your online tests!
Long-distance is not a problem
Reach scattered employees that are always on the go and need easy access to content. Content such as product updates, customer personas, compliance updates, and sales pitches can easily be made available with just a few clicks [2].
The main disadvantages of mobile learning
Distraction
Mobile devices can be a great distraction. Mobile Learning can be distracting if your users get constantly interrupted with text messages and notifications. Therefore, it requires self-discipline and focus.
However, if you can make your training interactive and fun, the other applications available on mobiles won't be a distraction for your learners.
Lack of Internet connection
Using mobile devices for e-learning could be an issue if your participants don't have an Internet connection or electricity readily available.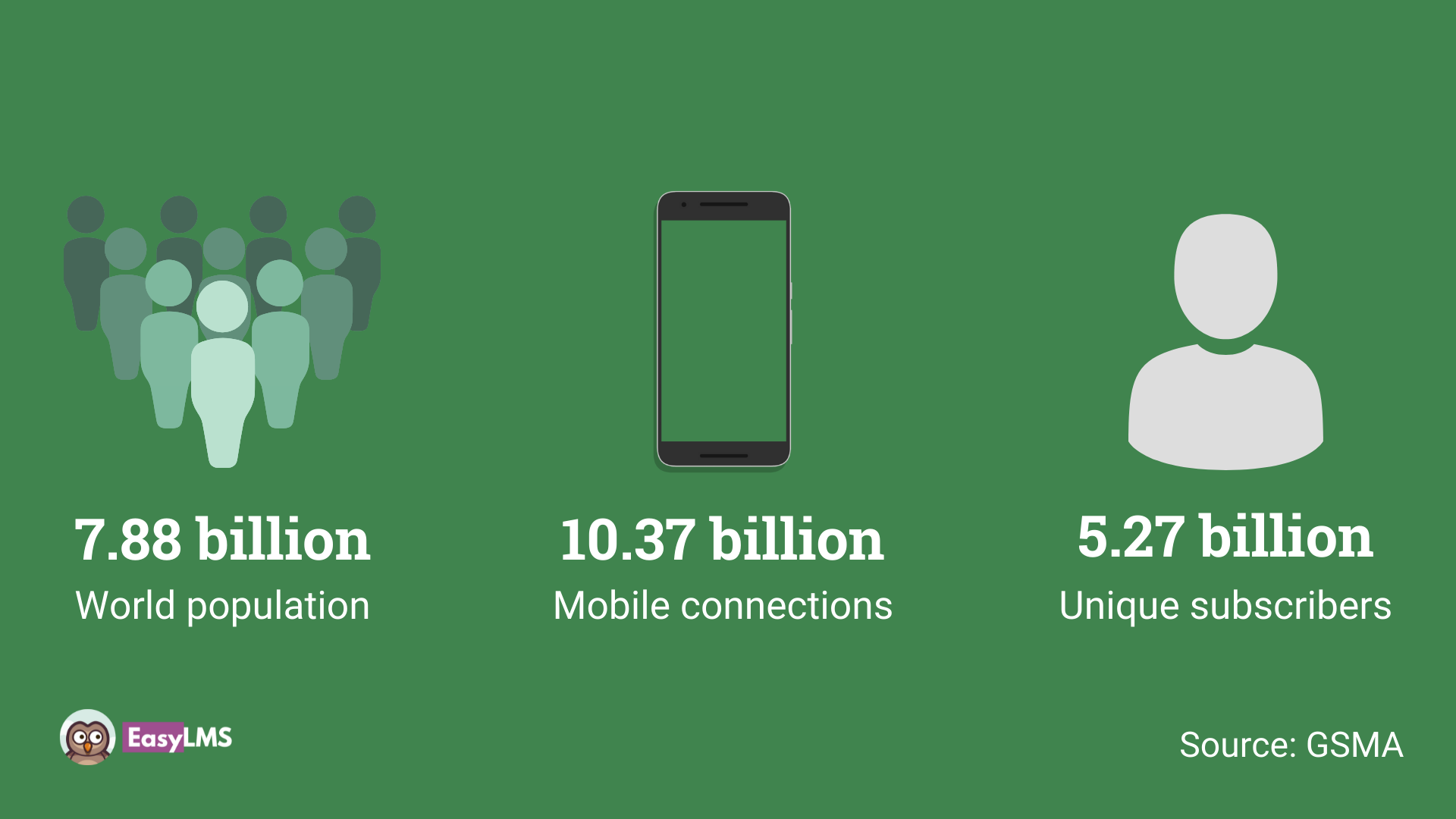 Despite that, data gathered by GSMA intelligence [3] indicates that there are now more mobile devices than there are people in the world. Considering the enormous growth of mobile devices, a lack of Internet connection, poor connection quality, and restricted access to electricity will become problems of the past.
Screen too small
Topics with detailed images may not be legible on a small screen
Mobile learning might not work very well for certain types of content you want to share. Technical topics with detailed images may not be legible on a small screen, for example. The same goes for complicated mathematical equations or even long essays. For those tasks that require more visualization, a bigger screen may work better.
Which tool to use for mobile learning?
Mobile learning is possible with our learning management system, Easy LMS . The user interface is fully responsive , which means your learning content looks and works great on all sorts of devices, desktops, and mobile phones. Your participants can take their learning content on any modern device with a screen and an internet connection. ✨
With Easy LMS, you can easily create tests and training materials with videos, images, and much more. It's also possible to share a survey with your users that they can answer during a lecture or training session if you are using a blended learning approach.
Useful resources
Frequently Asked Questions
Dig deeper
As a trainer, you understand that employee training has more advantages than disadvantages. To persuade your potential clients and maintain a steady workload, we've compiled...