Epplejeck - Netherlands


Corporate Owl with Academy Portal
---
If you are a horse lover, Epplejeck Horse & Rider Superstore will make you feel like a kid in a candy store. Epplejeck is the largest superstore formula in the equestrian branch in the Netherlands. Epplejeck is super trendy, and has modern showrooms and a very appealing online store. In May, Epplejeck crossed international borders and opened its first Belgian store in Brussels. They have 12 physical outlets in total, and they are not done growing. Aside from the Epplejeck online store, they also have a sister company called HorseFitShop, which focuses on the health of a horse and its riders. Around 250 employees are currently working for either Epplejeck or HorseFitShop.
The employees of Epplejeck work hard every day to search for innovation, brands and new trends in the equestrian branch. Last January, Epplejeck opened its Education Center which mainly focuses on helping their sales employees to develop skills in different subjects. They provide all sorts of training related to sales, products, anatomy and systems. This enables Epplejeck's sales employees to offer better service to their customers and enrich their customers' shopping experience.
To deliver the information to their employees and train them effectively, the search for a suitable LMS started. Epplejeck stumbled across a well-reviewed system called Easy LMS, and the sassy Owl got their attention immediately. There was no hesitation; this was the program they needed to complete the circle of providing and testing their training.
With Easy LMS, Epplejeck could finally create solid Exams with multiple answers, implement videos, and easily see all results. Furthermore, Epplejeck used the Course tool quite often from the start, because it provided them with a platform where they could digitalize almost all of their internal information. It also gave them the option to moderate who needs to receive which information. If they part ways with an employee, they can easily withdraw that person's access to their information. This improved even more when Epplejeck added the Academy Portal to their subscription; all of their employees now have a personal login portal where they can see what needs to be done, and where they can also see all of their previous results.

Tessa Wakelkamp and Manouk van Veen, Team Educational Center at Epplejeck Horse & Rider Superstore, commented:
''Overall, Easy LMS offered a way for us to increase communication and mutual involvement between our headquarters and our stores, and therefore also between our operational employees.
Last but not least, they always keep upgrading their software and website and are also open to suggestions. The contact we have with them is very professional, easygoing, and open, and we appreciate this.
We strive for a long-term partnership with Easy LMS and we are excited about what the future will hold.''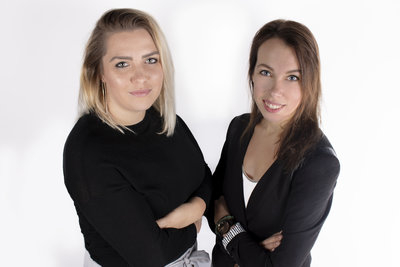 Tessa Wakelkamp (left) and Manouk van Veen (right)
Team Educational Center at Epplejeck Horse & Rider Superstore

Check out Epplejeck